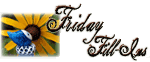 This week, we had a choice of fill-ins OR a different kind of fill-in (or both). On the second part, you have to identify Christmas songs by the initials of the first words of the first line of each song. Each Friday until Christmas Eve the meme will include 9 more of these songs. :-)!
1. I wish _____.
I try not to wish...more to hope. I hope my
Raynaud's Phenomenon
goes away-I am sitting with a blanket over my legs right now. I hope I come up with a strategy to save money on toilet paper. I hope that Husband can start on some of my snowmen this weekend (what I want for Christmas-I can't touch the snow and it is a cost-free gift).
2. _____...that's what I'm thinking.
We need to get my Christmas wreath moved to where I want it for the holidays.
3. Please bring _____.
my bottle of wine. I won a nice bottle of wine awhile back and it has not arrived yet.
4. _____ is so amazing.
Cornerstone Festival.
I am going in 2011. A large Christian music (and art) festival. The first confirmed band is
Flatfoot 56
(a Celtic,Punk band).
5. One of my fondest hopes _____.
To get back into an actual classroom environment...vs. online or
MIT OpenCourseWare.
6. _____ and I just wanted to say thank you
Husband is very caring
7. And as for the weekend, tonight I'm looking forward to _____, tomorrow my plans include _____ and Sunday, I want to _____!
Tonight-Walking outdoors if it is not too cold.
Tomorrow-Playing XBOX w/Husband....I am not very good at games.
Sunday-Rest
AND/OR
10. YKDADAPAVCACADAB:
11. ISMKSCUTMLN:
12. CSBSDIHS:
13. HTHASGTTNK:
14. GGROBAR:
15. OHNTSASB:
16. AIWFCIMTFT:
17. DTTSIAOHOS:
18. WTKOOA:
Last week's answers:
1. HYAMLC: have yourself a merry little christmas
2. TFNTADS: the first noel the angels did say
3. GRYMGLNYD: god rest ye merry gentleman let nothing you dismay
4. ICUAMC: it came upon a midnight clear
5. SNHNAICAIB: silent night holy night all is calm all is bright
6. OTFDOCMTLGTM: on the first day of christmas my true love gave to me
7. DTHWBOHFLLLLLLLL: deck the halls with boughs of holly fa la la la la la la la la
8. YBWOYBNC: you better watch out you better not cry
9. JTTWTLHC: joy to the world the lord has come
_______________________
PARTICIPATE IN FRIDAY FILL-INS. :-)